Bookstore Navigation
This second level navigation allows you to easily browse the bookstore section.
Front Page 2003 For Dummies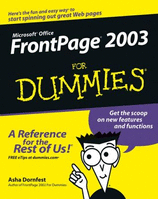 This book discusses the use of Microsoft Front Page 2003 for basic web site design, working with text, effectively using hyperlinks, and adding images and graphics.
It explains how to work with tables, forms, and frames, it will show you how to add multimedia elements like sound and animation.
It is updated to explain the newest tools in the latest edition of Front Page.
Previous editions of this book have combined to sell more than 230,000 copies.
(Paperback)
From $16.49