Bookstore Navigation
This second level navigation allows you to easily browse the bookstore section.
Dreamweaver CS4: The Missing Manual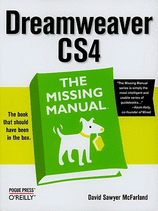 When it comes to building professional websites, Dreamweaver CS4 is capable of doing more than any other web design program, including previous versions of Dreamweaver.
But the software's sophisticated features aren't simple. Dreamweaver CS4: The Missing Manual will help you master this program quickly, so you can bring stunning, interactive websites to life.
Under the expert guidance of bestselling author and teacher David McFarland, you'll learn how to build professional-looking websites quickly and painlessly. McFarland has loaded the book with over 150 pages of hands-on tutorials to help you create database-enabled PHP pages, use cascading style sheets (CSS) for cutting-edge design, add XML-based news feeds, include dynamic effects with javascript and AJAX, and more.
This witty and objective book offers jargon-free language and clear descriptions that will help you: Learn how to control the appearance of your web pages with CSS, from the basics to advanced techniques, design dynamic database-driven websites, from blogs to product catalogs, and from shopping carts to newsletter signup forms.
You will learn to add interactivity to your website with ready-to-use javascript programs from Adobe's Spry Framework and effortlessly control the many helper files that power your website and manage thousands of pages. Examine web-page components and Dreamweaver's capabilities with the book's "live examples"
Perfect for beginners who need step-by-step guidance, and for longtime Dreamweaver designers who need a handy reference to the new version.
This thoroughly updated edition of our bestselling Missing Manual is your complete guide to designing, organizing, building, and deploying websites. It's the ultimateatlas for Dreamweaver CS4.
(Paperback)
List $29.69